I just saw this on BBC News...poor boy :( I hope they get him down safely...btw he's still up in the sky...:S

Colorado boy floats away in balloon
(CNN) -- Officials are trying to rescue a 6-year-old boy who climbed into a balloon-like experimental aircraft built by his parents and floated into the sky over eastern Colorado.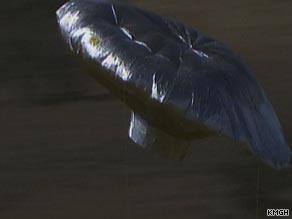 The family describes the structure as a dome-shaped "homemade flying saucer," according to sheriff's office.
The boy's family had been building the experimental aircraft at their home on Fossil Ridge Road in Fort Collins, CNN affiliate KUSA reported.
The family has described the structure as a a dome-shaped "homemade flying saucer," Larimer County Sheriff's Office Spokeswoman Kathy Davis said.
"We're trying to determine the best course of action," Davis said. "This is a first and we'll do what we need to do."
SOURCE
Lesson is
DON'T DO WEIRD SHIT EXPERIMENTS AT HOME!!
UPDATE: The balloon landed safely.....it's been up in the air about 1 hr..they assume the boy fell out the balloon :S