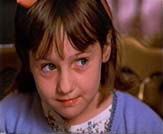 I was wondering what happend to this cute kid...something did happen and you're seeing it with your own eyes. Mara is well known for her two movie Mrs. Doubtfire and Matilda. At a such a young age, she was extremly talented.
More pics:
Mara Wilson Pics
Bio Info:
Date of Birth
24 July 1987, Los Angeles, California, USA
Birth Name
Mara Elizabeth Wilson
Height
5' 4" (1.63 m)
Mini Biography
Mara Elizabeth Wilson was born on July 24th, 1987 in Los Angeles, USA. She is a middle child with three elder brothers - Danny (b. 1979), Jon (b. 1981) and Joel (b. 1983) - and a younger sister Anna (b. 1993).
When Mara was five years old, her eldest brother Danny started acting in television adverts and she wanted to follow in his footsteps. She went on to appear in a number of commercials including those advertising Texaco and the Bank of America. She also appeared in a movie with Robin Williams in the film Mrs. Doubtfire (1993), which is based on Anne Fine's novel 'Madame Doubtfire'. In the role, Mara proved herself to be a talented young actress, who was mature for her tender years, and her acting career went from strength-to-strength as she quickly become a favorite among cinema-goers.
The following year, Mara played a small girl whose mother had suffered a major stroke in A Time to Heal (1994) (TV). But her big break came with the remake of Miracle on 34th Street (1994) where she had a starring role as the little cynical girl who learned the magic of Santa Claus. Ironically, Mara is Jewish so was not raised to believe in Santa Claus but this was a bonus in some ways since she was able to empathize with her character's stance that there was no Santa.
At the age of nine, Mara was cast in the lead role in the film adaptation of Roald Dahl's book Matilda (1996). Sadly, during filming, Mara lost her beloved mother to breast cancer but she bravely pushed ahead with the film much to the amazement and admiration of her adult co-stars.
Mara starred in three films over the following three years, the last of which was as the granddaughter of Peter Fonda in the film version of the British children's favorite Thomas and the Magic Railroad (2000). Unfortunately, the film did not do well in the box office and also signaled an end to Mara's childhood career as she focused on her school career and just enjoying her teenage years.
In June 2005, Mara graduated from Idyllwild School of Music & Arts and has since gone on to attend New York University where she is studying drama so perhaps the big screen has not seen the last of her!
IMDb Mini Biography By:
Melissa J et al.
Trivia
Young Mara Wilson was first seen in Mrs. Doubtfire (1993), where she was spotted by family movie writer/producer John Hughes, who chose her for an important part in his latest production, a remake of the christmas classic Miracle on 34th Street (1994)
She graduated from Burroughs High School in June 2005, and plans to attend Idyllwild Arts Academy in Idyllwild, California this Fall. She will major in Theater.
Mara's sister, Anna, is 5 years younger than she is.
Her brothers are Danny (8 years older than Mara), Jon (7 years older than Mara) and Joel (5 years older than Mara).
She currently resides in Burbank, California.
Attending New York University (2005)
Where Are They Now
(September 2005) Currently attending New York University and studying acting.
Source:
IMDB
I will inform you about you prize soon. The problem is how can I jugde?? ;) hehe
Oh and be sure to wait for the next Guess Who! and new games, so don't worry there is a chance for everyone to win :D Thanks for respoding..besides :P I shouldn't have used to link to post the pic, but I didn't think you would cheat :P hehe!